Kamala Harris Will Continue The Fight But Out Of The 2020 Race
|
The California senator broke barriers but ran out of money as she struggled in polls. Her abrupt announcement is perhaps the most surprising development to date in the 2020 race.
Senator Kamala Harris of California dropped out of the Democratic presidential race on Tuesday after months of low poll numbers and a series of missteps that crippled her campaign, a deflating comedown for a barrier-breaking candidate who was seeking to become the first black woman to win a major party's presidential nomination.
The decision came after weeks of upheaval among Ms. Harris's staff, including layoffs in New Hampshire and at her headquarters in Baltimore, and disarray among her allies. She told supporters in an email on Tuesday that she lacked the money needed to fully finance a competitive campaign.
"My campaign for president simply doesn't have the financial resources we need to continue," Ms. Harris wrote. "But I want to be clear with you: I am still very much in this fight."
The announcement is perhaps the most surprising development to date in a fluid Democratic presidential campaign where Ms. Harris began in the top tier. Her departure removes a prominent woman of color from a field that started as the most racially diverse ever in a Democratic primary, and raises the prospect that this month's debate in Los Angeles will feature no candidates who aren't white.
Ms. Harris opened her campaign on Martin Luther King's Birthday with a rousing speech in her hometown, Oakland, Calif., before an audience of 20,000 people, drawing comparisons to history-making black politicians like Barack Obama and Shirley Chisholm.
The speech was a signal of the careful balance her campaign triedto strike throughout the year: leaning on her personal story as a daughter of Indian and Jamaican immigrants while offering policy preferences that toggled between the party's moderate and progressive ideological wings. Ms. Harris sought to focus on incremental and deliverable change rather than the type of systemic upheaval popularized by rivals like Senators Elizabeth Warren of Massachusetts and Bernie Sanders of Vermont.
But almost immediately after her campaign began, she faced questions about her policy core that resulted in damaging news cycles. She reversed her position on single-payer health care, removing herself from the "Medicare for all" bill sponsored by Mr. Sanders. She struggled with how to frame her record as a prosecutor, oscillating between defending it against progressive criticism and embracing it in a play for more moderate votes.
On a conference call with donors Tuesday, Ms. Harris said she arrived at the decision after conferring with her family over the Thanksgiving holiday. She stayed up meeting with advisers until 2 a.m. Tuesday, before concluding she had "no path" forward in the race, a person on the call said.
Ms. Harris said she would have needed to raise $5 million in two weeks, a goal she described as impossible. "I just don't want to bullshit you," she said.READ MORE Kamala Harris's fortunes fell swiftly. Here's how her campaign unraveled.
Over the weekend, after a New York Times article detailed problems within her campaign, Ms. Harris did a financial audit of her operation, according to a senior aide. One of Ms. Harris's aides, who spoke with her about her decision to drop out, said that her instinct was to keep fighting but that she was told her campaign would have to go into debt in order to continue.
In her announcement Tuesday, Ms. Harris reaffirmed her commitment to her campaign's unifying ideals. She is likely to immediately become a top-tier option for the party's vice-presidential nomination.
"Although I'm no longer running for president," she said, "I will do everything in my power to defeat Donald Trump and fight for the future of our country and the best of who we are."
It has been the honor of my life to be your candidate. We will keep up the fight.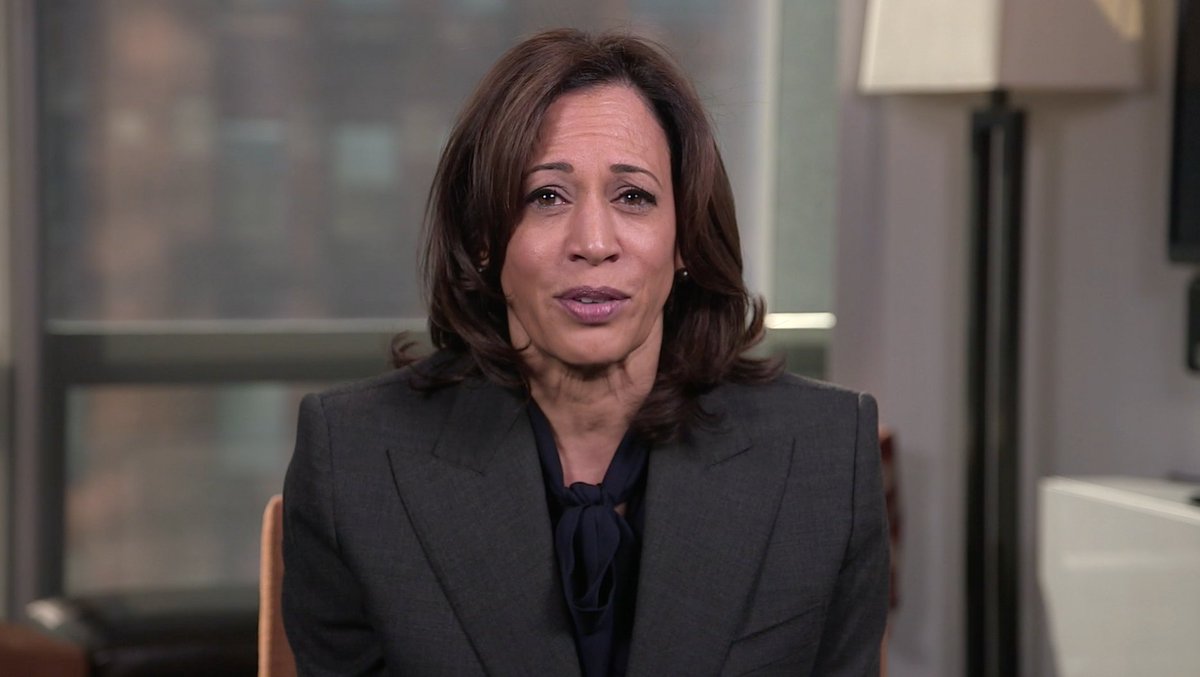 Ms. Harris's withdrawal will set off an arms race between the remaining presidential campaigns, as they try to lap up her top-tier roster of endorsements and staff members. Some of her donors have already begun to field calls from her rivals.
But it is unclear how much Ms. Harris's exit will aid any one candidate in polling, considering how her standing had declined in recent months. She and Ms. Warren were competing for many of the same voters earlier in the year, but moderates like former Vice President Joseph R. Biden Jr. and Mayor Pete Buttigieg of South Bend, Ind., may seek a boost from her supporters in Iowa and New Hampshire.
Throughout her candidacy, Ms. Harris faced concerns about her political strategy and her campaign's organizational structure. She relied on a stable of California political strategists, led by the longtime political operative Averell Smith, who did not heed warnings from grass-roots organizers to invest more heavily in early voting states like Iowa and New Hampshire. Instead, the campaign focused on later primaries in states with more nonwhite voters, including South Carolina and California.
Her campaign miscalculated. Mr. Biden remained popular with black voters, preventing her campaign from making significant headway in South Carolina. In California, Ms. Harris was increasingly boxed out, as candidates like Mr. Sanders and Ms. Warren excited the state's liberal wing and Mr. Biden persisted among moderates. Who's Running for President in 2020?Who's in, who's out and who's still thinking.
Still, Ms. Harris had already qualified for the next presidential debate, scheduled for Dec. 19, the only nonwhite candidate to do so thus far. Without her, Democrats may have an all-white debate stage, though candidates like Representative Tulsi Gabbard of Hawaii and the businessman Andrew Yang may still qualify in the coming days.
"No matter your candidate, you have to recognize that going from the most diverse field ever in January to a potentially all-white debate stage in December is catastrophic," wrote Leah Greenberg, a co-executive director of Indivisible, a national progressive group, on Twitter.
It was on an earlier debate stage in June when Ms. Harris generated one of the most electric moments of the race so far, challenging Mr. Biden over his record on race and busing. "I do not believe you are a racist," she began. Mr. Biden was so taken aback, he cut his own answer short.
Money poured into her campaign and she spiked in the polls. But those numbers declined steadily in the months that followed, beginning when she had difficulty articulating her own position on mandated busing — undercutting her star turn.